Wood waste gets a new life as 21st century Rococo furniture
20.10.2023
The vast majority of wood waste from the construction industry and other industries ends up being burned, even though a sustainable future requires the reuse of materials. Palad handcrafts unique pieces of furniture from waste wood, breaking the boundary between artwork and furniture, in accordance with the principles of the circular economy. The ART furniture collection, which uses recycled materials, was presented internationally in Oslo in October.
The Finnish construction industry generated 295,000 tons of wood waste in 2021. A total of 2,555,000 tons of wood waste was generated in all industries. The production of wood products burdens the environment, so in order to reduce the environmental burden, the primary option would be to manufacture new products from waste wood.
The common goal of EU countries was to utilize 70% of construction and demolition waste as material by 2020. In Finland, the goal has not been achieved, but most of the wood waste taken into useful use ends up in energy production.
"It's surprising how much wood material ends up being burned only in Finland. We want to produce sustainable solutions and save materials for reuse, so we have designed a furniture collection that utilizes recycled materials. The seats in the collection are handcrafted from wood that would otherwise end up as waste. The end result is a unique, series of furniture that breaks the boundary between artwork and furniture," say Jaana Partanen and Heikki Lamusuo, designers of the Palad design furniture brand.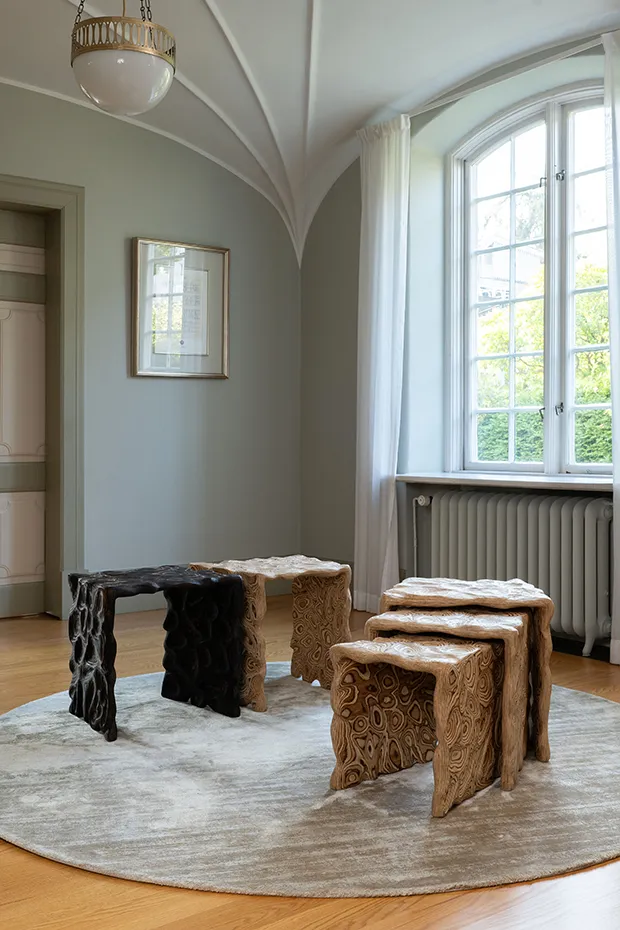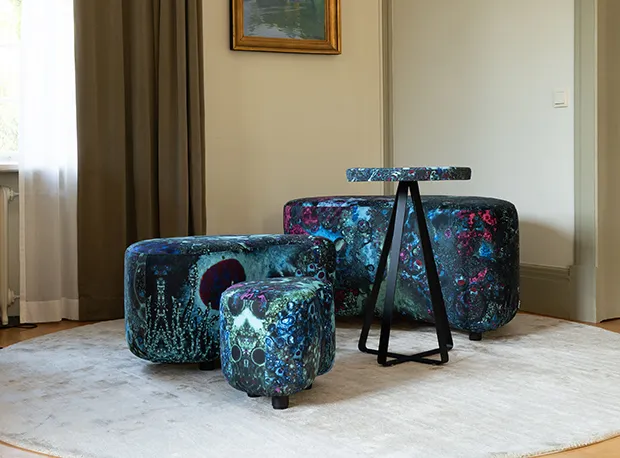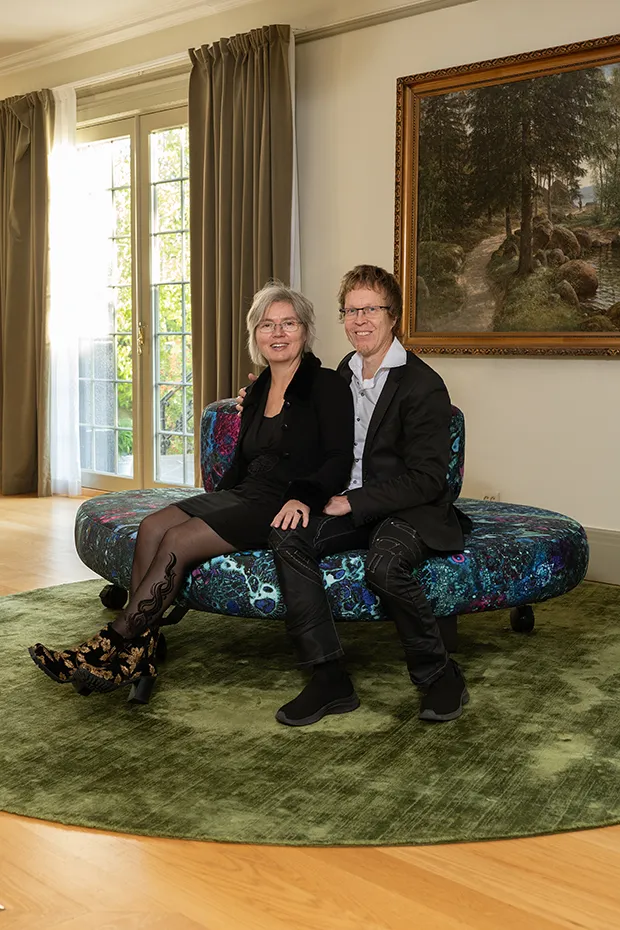 Palad promotes the international recognition of Finnish art, the furniture industry and the circular economy
At Helsinki Design Week, Palad premiered the 21st century Rococo and P.I.K. chairs from the ART collection. At Helsinki Design Week, the audience was addressed by the new life of wood waste at the interface of art and furniture: each piece of furniture is unique and numbered.
The ART collection was presented internationally in Oslo on 11th October 2023. With the presentation, Palad makes Finnish art, the furniture industry and the circular economy known internationally. The new Evolution textile, which is used to cover the upholstered furniture of the ART collection, will have its premiere in Oslo. The fabric pattern is 21st century Rococo, typical of the ART collection, which exudes playfulness, decorativeness, mischievous courage without forgetting practicality.
The inspiration for the Evolution pattern is the work of art Evolution realized on the facade of Kuopio University Hospital. The work and pattern are an artistic vision of microscopic images of cells and tissues.
"Nature is strongly reflected in the ART collection. With this, we want to highlight the carrying capacity of the environment: how long will nature endure the current consumption, if the circular economy and the reuse of waste materials are not promoted", says Partanen.
"Every piece of furniture in the ART collection is made to order. There is no need for storage facilities for furniture, the heating of which would waste natural resources unnecessarily," says Lamusuo.
More information:
Art director Jaana Partanen, tel. +358 50 321 6313
See more