We are creative design and architecture office. We design comfortable living and working environments, buildings and spaces that please the eye and endure the everyday use.
Partanen & Lamusuo Ltd is an architectural design company created in 2009 by partners Jaana Partanen, artist TaM and Heikki Lamusuo, architect SAFA. As Partanen & Lamusuo old website was updated in 2018 the art site of Jaana Partanen www.jaanapartanen.fi was launched. Jaana Partanen's website showcases her own art productions.
Partanen & Lamusuo Ltd is a member of The Association of Finnish Architects' Offices (ATL) and also belongs to Kuopio Region Chamber of Commerce. Heikki Lamusuo is a member of Finnish Association of Architects (SAFA) and Jaana Partanen is a member of The Artists' Association of Finland.
Partanen & Lamusuo are Empathy designers. The projects emphasize listening to the customer, making wishes and dreams come true, and leaving an empathetic footprint. An Empathetic footprint refers to a positive impact that is created through an egalitarian, sustainable and communal way of working. The artist-architect couple uses a unique, unifying way of art, design and architecture in their design projects.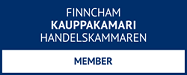 Read our blogposts from 2012-2018: artblog.pa-la.fi