The artworks of Mansikkaniemi school completed
23.01.2023
The artworks designed by Partanen & Lamusuo for the Mansikkaniemi school in Iisalmi have been completed. Art implemented using the "Percent for Art" principle is visible both on the school's facade and in the interior.
For the interior of the school, Partanen & Lamusuo created a seven-part floor art piece Alli, Juhani and Sven Tuuva. Three of the parts of the work that spread over the lobby and corridor areas are located on the upper floor and four on the lower floor. The work also makes use of the history of the region: it was influenced by Alli Nissinen's poem Jänis istui maassa (A Rabbit Sat on the Ground), Juhani Aho's novel Rautatie (Railway) and Sven Tuuva's battle at Koljonniemi.
The execution method of the floor artwork is completely new: the material of the work is floor coating, the use of which we investigated together with Sika Finland and Pinnoitus Paukkonen. First, a base color was spread on the floor, on which various patterns were drawn according to the sketches made by the artists. It was worth practicing the execution of the work, because the working time for the material was 15 minutes. The piece solidified into its final shape in 30 minutes, so there was no room for mistakes. Thanks to our excellent partners for the seamless cooperation!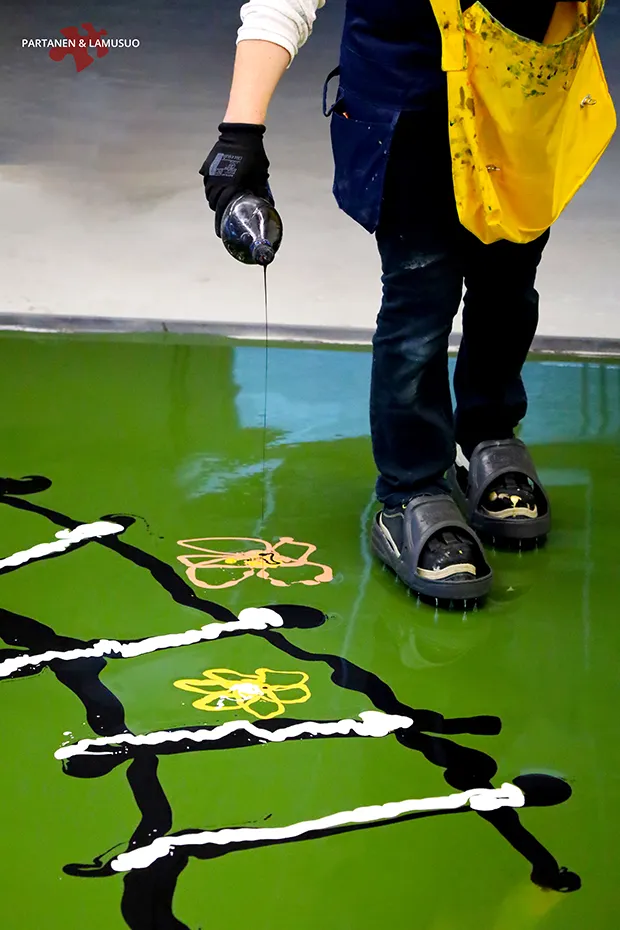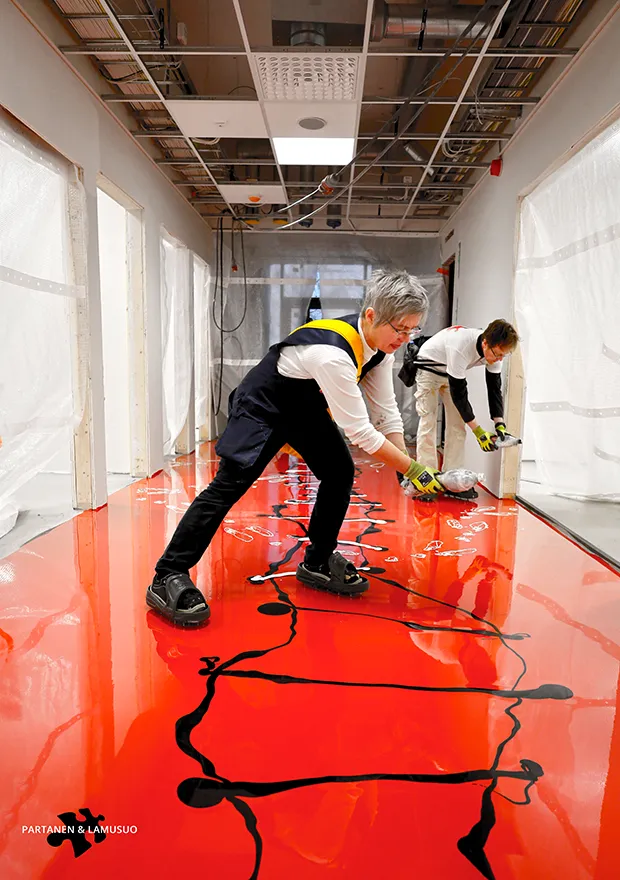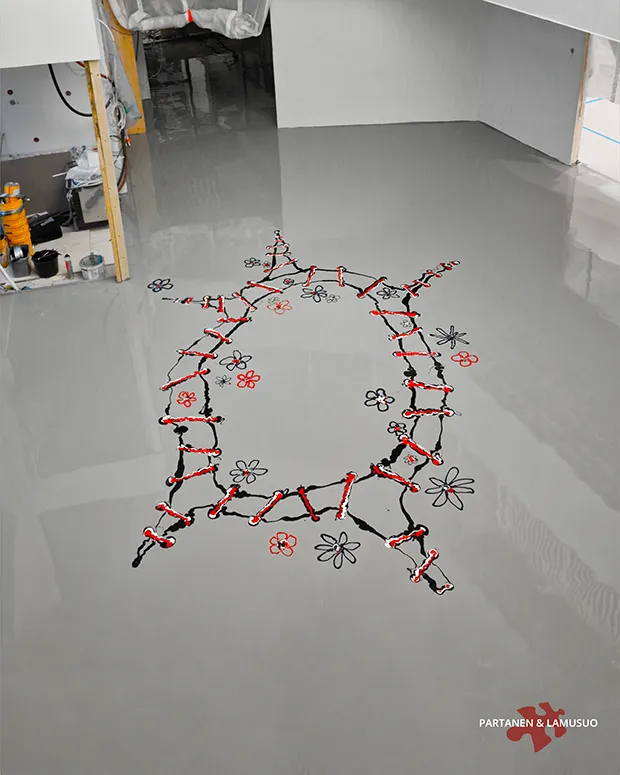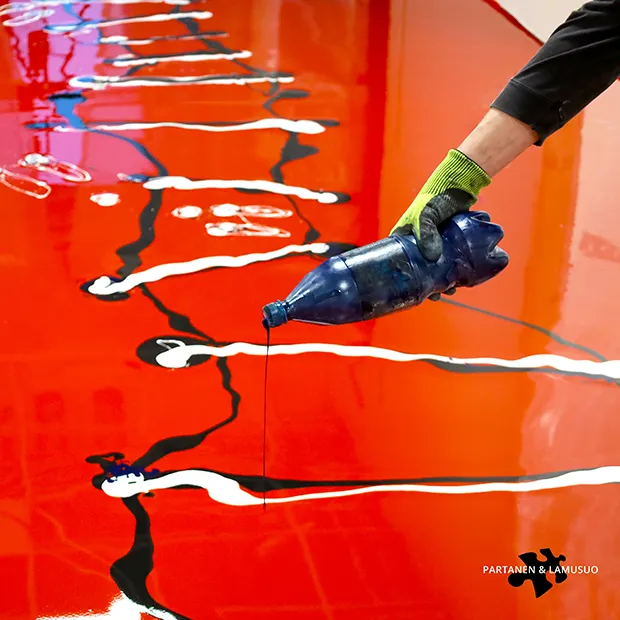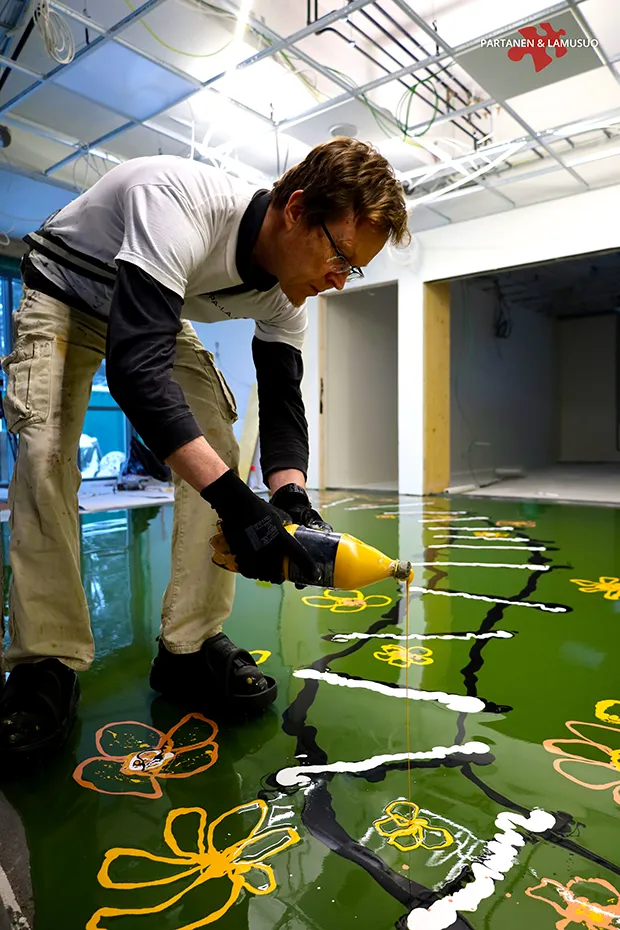 The work is designed to inspire children to use patterns as game platforms. It remains to be seen how the traces of the hare jumping and other parts of the artwork in the school's corridors will attract children into lively games. The students will be able to test the new facilities when the school opens in week 11.
For the facade of the school, Partanen & Lamusuo designed a two-part work, which was inspired by the historical area of Mansikkaniemi and traditional wooden construction. The starting point was the traditional wall paneling layout, which has been used e.g. on the walls and doors of the wooden church in Iisalmi. The architectural design for the Mansikkaniemi school was carried out by Siren Architects Oy.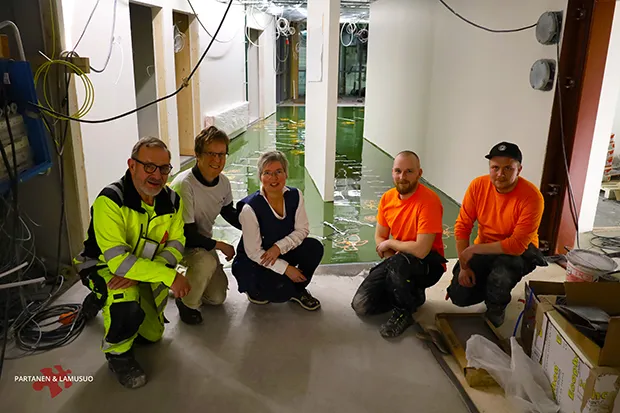 More public artworks