Finland – the model country for hospital design
12.01.2021
The high quality of Finnish hospital design as well as the use of art has been noticed abroad. Ecophon Sweden published an article on their website, which tells about the Evolution artwork designed by Partanen & Lamusuo. The artwork is a part of the building's energy system by heating the building in the winter and cooling it in the summer.
From the outside you can admire the whole artwork, but from the inside you can see small unique pieces of artwork. The lobby area was also designed by Partanen & Lamusuo. The lobby is characterized by organic, round shapes, inspired by cells, which can also be seen in the furniture. For example, Tuma couches from Palad can be found from the lobby.
The organic shapes support the feeling of being safe and help creating a pleasant sound environment. According to Jaana Partanen, acoustics plays a very important role especially in the healthcare sector. In the big lobby, both the walls and the ceiling consist of acoustic panels, but the staircases, walking bridges and the furniture help as well when creating the good acoustics.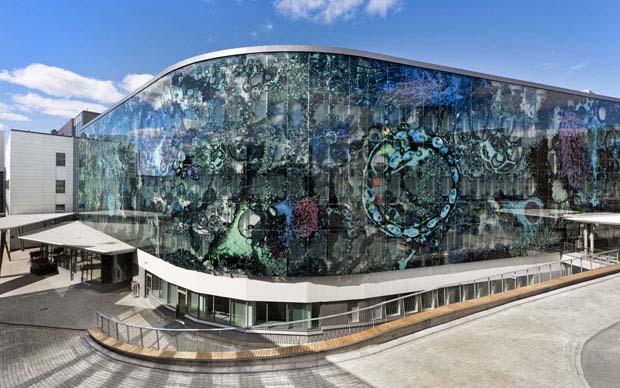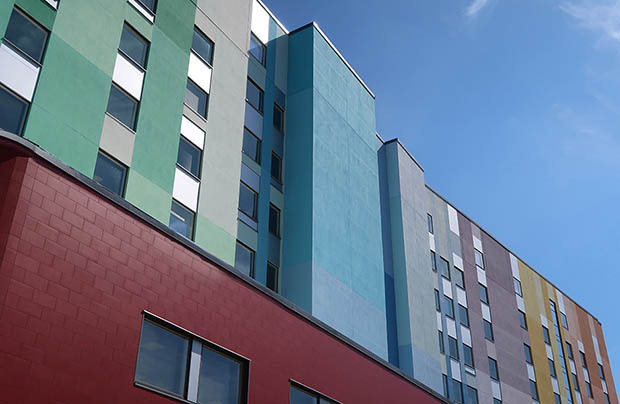 Art plays an important role when creating an inviting and humane building. The ten-storey high Eksote K-hospital was painted using 36 different shades, blended from seven original colors. Architecture and art have created a holistic hospital experience that supports well-being.
The whole article can be read on Ecophon's website.
More