The nature thrives at the Alvar
12.02.2018
The first residents of VetreaElo Alvar moved in on November of 2017. The official opening was January 25th, 2018.
VetreaElo Alvar is a care facility located in Jyväskylä. The facility offers short and long term housing for physically or mentally impaired. Partanen & Lamusuo was responsible for common area and therapy room interior design where a brand new nature inspired interior concept was introduced. The theme materialized as large scale nature wallpapers in common spaces, warm wood tones and backdrop of green plants. The nature theme continues in the common spaces as well as in the private rooms. Partanen & Lamusuo also brought to life the experience rich garden and fitness trail. The ability to be active and enjoy the nature and scenery year round were important factors when designing the grounds.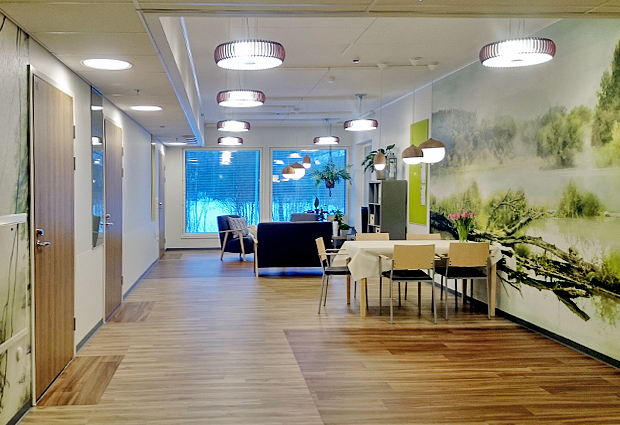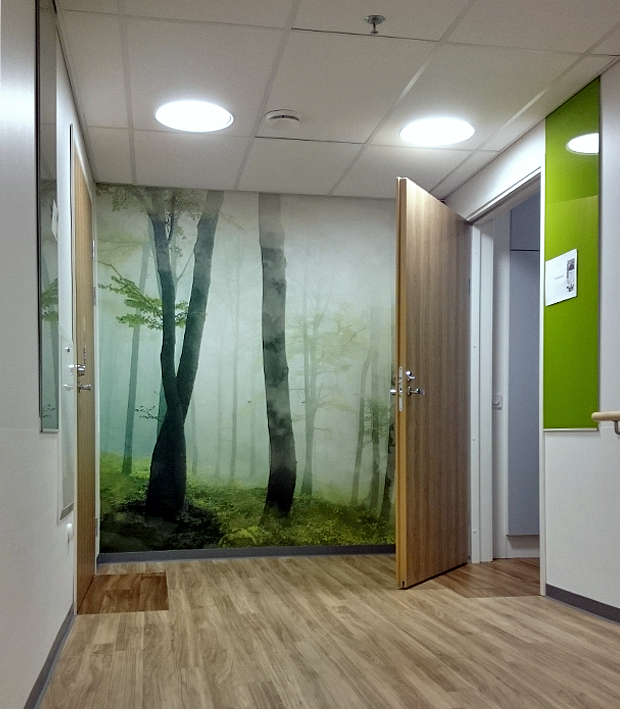 The nature theme idea originally stemmed from the Vetrea brand colors and especially the green color that became an important design element. The bright green color is associated with nature, vitality and freshness; all of these being very positive images that a new care facility should create. The nature as a subject touches and it has a calming, healing and therapeutic effect on us all. You can draw an endless pool of memories, images and thoughts about nature. The nature is a versatile, vital and ever changing entirety and these are exactly the points that we wanted to accent with the new interior concept.