The art work Beginning of Everything
25.05.2021
Artists Jaana Partanen and Heikki Lamusuo created a glass art work The Beginning of Everything in the window of the Kontiolahti Parish Center. New works of art and artists were unveiled at an art opening open to all on May 25th.
Partanen and Lamusuo describe their work The Beginning of Everything as evoking images of the birth of the world into the primordial explosion and winged angels. The work is made by digital printing on three 78 x 372 cm glass parts. The color scheme is inspired by the architecture of the church hall. The eight-pointed cross on which the work is based delimits the altar area from the eyes of people walking outside, but leaves airiness and the movement of light in the space.
"The play of light and shadow is present in the artwork as it is in everyday life," the artist couple interprets.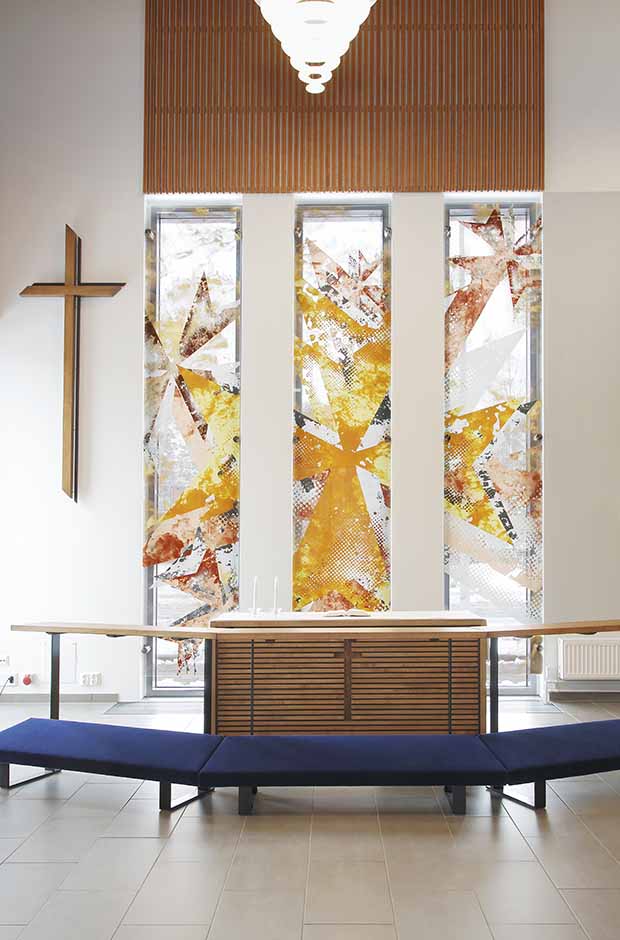 The authors of the parish centre's permanent main works were selected in a portfolio search in the autumn of 2020. The parish center's works were acquired with the testamentary donation of Maila and Eetu Tanskanen. In addition to the glass work by Partanen & Lamusuo, the oil painting High Time by Juha Kuosmanen was placed on the wall of the small hall of the parish center.
The Kontiolahti Parish Center was completed in 2019. The architect was Ilkka Kärnä. The parish hall hosts services, parish events, as well as commemorations and concerts, for example. The space can be divided by a partition into a small and a large hall.
See more