Palad launces ART collection
05.09.2023
Unique, sculptural ART collection premiered in Palad's pop-up showroom at BioRex Tripla
Helsinki Design Week calls for successful and problem-solving design that brings the environment to life, brings emotions to the surface, and elevates beauty, drama, originality, surprise and even irritation alongside form and functionality.
Palad responds to the challenge by launching 21st century Rococo, represented by the playful ART collection, bringing art into an inseparable part of design. The sculpture-like P.I.K. seats are the opening to the ART collection, which brings unprecedented aesthetics to the interior without forgetting user-orientation. The living surface of P.I.K. seats made of Rescue materials is created by carving and burning. The finished, unique piece of furniture emerges from the inside of the tree and from the ashes like a phoenix bird. The collection brings the aesthetic experiences of art into a natural part of the interior of a public space or home.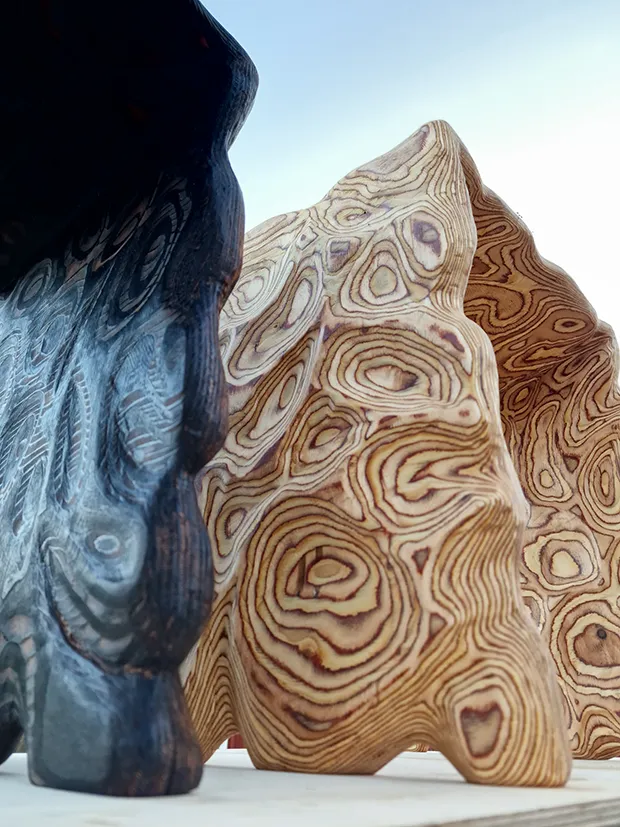 The program for our event:
at 9:00 the premiere of the ART collection
at 10:00 Empathic footprint
at 11:00 Discussion: value-based design
Special guests:
Tuesday 12 September, 2023 at 11-12, Journalist and fashion influencer Sami Sykkö. The discussion focuses on value-based design and the future of design.
Wednesday 13 September 2023 at 11-12 Interior architects SIO Päivi and Lars Räihä. The discussion focuses on couples' value-based thinking and mediation in work.
Thursday 14 September 2023 at 11-12 The founder of Framery and serial entrepreneur Ilkka Kaikuvuo will bring new perspectives to value-based design.